An evening for Anastasia Lin – The beauty queen that terrifies Beijing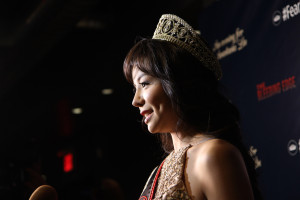 This week we had the honour of holding an evening for Anastasia Lin, to show our support for her bravery in continuing to speak up for human rights. As Canada's Miss World candidate, and star of our upcoming feature film The Bleeding Edge, Anastasia has fought tirelessly for a right to compete in Miss World and to share her beliefs in "tolerance, diversity and freedom".
While she was met with intimidation tactics and banned from entering China and the competition, Anastasia has not backed down, which is why we wanted to show our appreciation for her last night and support her with an opportunity to share her message.
Co-hosted by Mark Media CEO Jason Loftus and Flying Cloud Productions President Leon Lee, the event featured a moving speech and piano performance by Anastasia, as well as a sneak peek of the new trailer for The Bleeding Edge, in which Lin stars as a woman arrested and tortured in China for speaking out against human rights abuses.
"When Anastasia herself was blocked from the Miss World pageant because of her human rights advocacy, this really hit home and we were deeply moved,"said Loftus.  "Quite a few actors that were interested in co-starring with her eventually pulled out of our film because they were too afraid. But Anastasia never wavered," added Lee.
We are incredibly grateful to the media and celebrity guests that stopped by to show their support, and hope that Anastasia's ongoing work continues to bring awareness and inspire people to stand up for what is right.
Please visit  The Bleeding Edge on Facebook to view the new trailer for the film, which will be released in 2016, and for updates on Anastasia's story.
← Back
Next →