Miss World Canada, Anastasia Lin, Wins a Leo Award for her Stunning Performance in The Bleeding Edge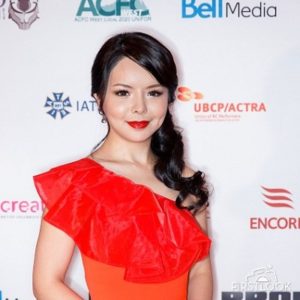 (scroll down)
<br/>
For immediate release:
June 6th, 2016
Anastasia Lin, Controversial Miss World Canada, Wins Best Actress at the Leo Awards, Western Canada's most Prestigious Film Gala
The reigning Miss World Canada who was prevented from competing in China at the 2015 pageant final, is now a Best Actress winner thanks to her performance in The Bleeding Edge, a feature length thriller from Vancouver's Peabody Award-winning director Leon Lee about prisoners of conscience in China. The 2016 Leo Awards are BC's highest film accolade, the ceremony was held on June 5th at the Hyatt Regency Vancouver.
Anastasia Lin accepted the 2016 Leo Award for Best Female Lead Performance in a TV Movie by honouring the victims of forced organ harvesting in China, a subject which is brought to light in the film. The Bleeding Edge, which is based on true events, sees Lin play a Falun Gong practitioner who is imprisoned for her spiritual beliefs and subjected to human rights atrocities in a labour camp. The role was dear to her heart:
"I feel like I'm receiving this award on behalf of the incredible cast and crew of the Bleeding Edge, they each made tremendous sacrifice to be in the production." She said, "I also want to thank the victims of this human rights abuse, who I interviewed for this film. They opened up their scars to show me the most profound fear and most incredible courage human beings can possess."
Anastasia Lin made global headlines in 2015 when she was prevented from competing in the Miss World beauty pageant in China because of her outspoken political views condemning the communist government. She refuses to be silenced and continues to push boundaries and speak up against human rights abuse in her native country.
"Her passion and courage is unrivalled which is brought to life in her stunning performance." says director Leon Lee, "We hope The Bleeding Edge continues to bring awareness and hope for the victims of these terrible crimes."
The Bleeding Edge is Lin's first leading role since being barred from the Miss World final, and her first win for best actress. The film will be released across Canada later this year by Flying Cloud Productions and was recently the recipient of the 2016 Gabriel Award for Best Film.
The Leo Awards were founded in 1999 by the Motion Picture Arts and Sciences Foundation of British Columbia, a not-for-profit organization whose mission is to celebrate and promote the achievements of the British Columbia film and television industry.
← Back
Next →